Whether you rent portable toilets, own your own portable restroom, or are just curious about portable sanitation in Central Ohio, our frigid winters and sultry summers can make for some interesting situations when it comes to a portable toilet.
In fact, sometimes it's not as easy as "set it and forget it", and what might seem like basic accessories on porta potties actually serve a really important purpose!
Here are 4 things to know (and key takeaways) about porta potties for construction sites or outdoor events in Dayton and Springfield.
A Porta John Vent Pipe is Really Important (and Works Best Like This…)
Key Takeaway: Keep the toilet lid closed when not in use for optimal odor control.
Unsurprisingly, the vent pipe in a porta potty plays a vital role in maintaining a relatively pleasant environment inside the unit. Without a vent pipe, using a porta potty would be a much more disagreeable experience!
But that's not all there is to it.
Portable toilet vent pipes serve three primary functions:
Odor control, allowing the escape of odors from the waste tank below the toilet. Without this vent, the odors would have no place to go and would accumulate inside the porta potty, making it quite unpleasant for users.
Temperature control, helping to regulate the temperature inside the porta potty. On hot days, the temperature inside can rise significantly. The vent plays an important role in helping hot air to escape, making the interior more bearable.
Gas release: As human waste breaks down, it produces gasses like methane. The vent pipe allows these gasses to escape, preventing a buildup that could be potentially hazardous!
Importantly, porta potty vent pipes work best when the lid to the toilet is closed thanks to some basic airflow dynamics. When the lid is closed, the opening of the porta potty door can create a more pronounced draft. This draft pulls fresh air into the porta potty and pushes stale, odor-filled air out through the vent pipe. If the lid is open, this airflow dynamic can be disrupted in portable toilets, and the effectiveness of the draft in removing odors is reduced.
In most porta potties, the vent pipe is located at the rear corner or the side of the unit, extending vertically from inside the waste tank below. It's typically positioned so its exterior opening is high up, often near the roof or the top of the porta potty, to ensure that the odors and gasses are released well above nose level for users and passersby. Most vent pipes have a screen or mesh at the top to prevent insects or even small animals from entering the waste tank.
This height, however, also helps to create a vacuum effect, pulling stale and odorous air out of the holding tank in greater amounts than a short tube.
Frigid Winters and Freezing Water In Portable Toilets
Key Takeaway: Central Ohio portable toilets generally need something to keep the water from freezing in our cold winter climate – but your porta potty rental company should handle that.
Portable toilets can indeed freeze in winter if precautions aren't taken, especially in extremely cold climates. However, service providers and users employ various methods to prevent the contents of a portable toilet from freezing. There are a few ways you can maintain reliable service and keep portable restrooms from freezing up in the winter:
Brine Solutions or Salt: Salt lowers the freezing point of water. By adding a brine solution (salt water) or salt directly to the waste tank, the freezing point of the liquid inside is reduced, making it harder for the contents to freeze.
Enzyme-Based Additives: These are environmentally friendly additives that help break down waste while also preventing freezing. They work by accelerating the decomposition process, which in turn produces heat. This heat can help in keeping the restroom trailers' contents from freezing.
Anti-Freezing Additives: "Rid-It Hot Flakes" or similar products are specially formulated additives designed to prevent the contents of portable toilets from freezing during cold weather.
Regular Servicing: By regularly pumping out waste and cleaning our portable toilets thoroughly, there's often less liquid and solids inside that can freeze. Regular servicing also means that fresh antifreeze or other additives can be added more frequently.
Even flushable portable toilets and luxury restroom trailers can have problems with freezing water if not properly cared for. For the best porta potty rental in Dayton during colder months, make sure you talk to your porta potty provider about their approach to managing freezing temperature and the inherent problems for porta potties.
Which Porta Potty Should You Use? The First One You Come To
Key Takeaway: The first portable toilet in a row, like at an outdoor event or busy job sites, is likely the least used and possibly the most sanitary!
When faced with a row of portable toilets, many people will walk past the first one, assuming it's the most used because it's the most accessible. They believe that by choosing one further down the line, they're likely to find a cleaner and lesser used option.
Ironically, this behavior can result in the first toilet being the least used and, therefore, the cleanest!
At Toilets and Co, we take great care in providing incredible service, a clean & sanitary portable restrooms, and affordable prices on portable toilet rentals that make sense for anyone and any event. We clean our porta potties weekly, and for high-traffic events or special needs, we also do on-demand cleaning when needed.
That Blue Water In The Holding Tank Is Blue For a Reason
Key Takeaway: You want to see that "blue goo" in your porta john to hide the poo and make it smell good, too.
Ever wonder why the liquid in your portable restrooms' tank is blue?
The blue liquid you see is a deodorizing dye that helps with odors and foul smells – when fresh, it smells quite nice!
But the blue coloring is also meant to help disguise the waste in the tank, making it less gross to look into, and it contains powerful biocides that destroy bacteria and help to break down biologic material like poo and pee.
The blue liquid is a good thing for everyone involved!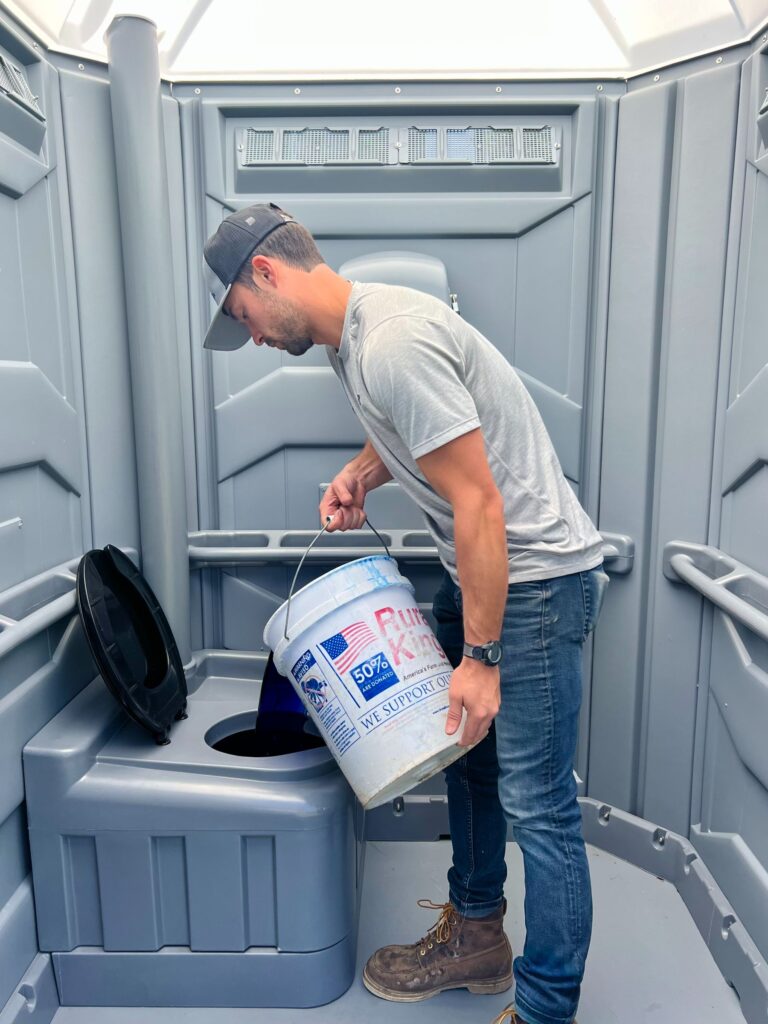 Dayton Porta Potty Rental: Clean Portable Toilets for Rent By Toilets And Co
Don't settle for less when planning your next event in Dayton!
With Toilets And Co, you're guaranteed top-quality, pristine portable toilet rentals that cater to all your needs. Whether it's a large festival, construction site, or intimate outdoor gathering, we've got you covered. From standard units to portable urinals and hand wash stations, we can help.
If you're searching around for "portable potty rental Dayton Ohio" we'd love to connect.
Call to book your porta potty rental now and ensure your guests experience the best in comfort and cleanliness that Dayton, OH has to offer.